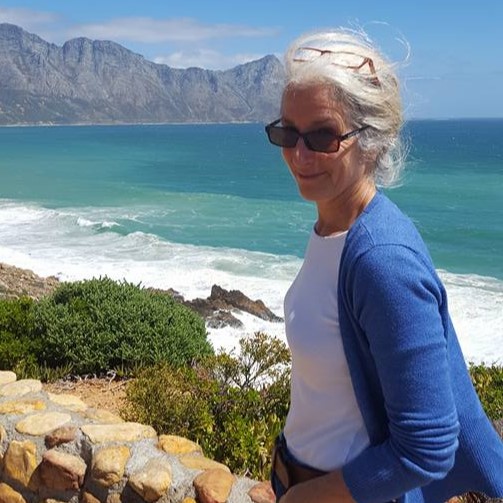 Designation: Chief Executive Officer, Stable Planet Alliance and Affiliate Full Professor, University of Washington
Expertise: Societal and environmental futures; climate and ecosystem restoration; youth leadership collaboration; species vulnerability to environmental and climate change
Keywords: Vulnerability, Impacts and Adaptation • Climate Science •  Biodiversity • Climate Restoration
Prof Phoebe Barnard is a passionate champion of agency and positive societal change in distressingly turbulent times. Core co-author of World Scientists' Warning of a Climate Emergency (2020) and lead author of World Scientists' Warnings into Action: Local to Global (2021), she is focused on accelerating and aligning global action towards a regenerative future and a kinder, wiser, humbler civilization.  Phoebe is now based in the USA as founding CEO of the Stable Planet Alliance, a global coalition of organizations and people working to bend the curve on human planetary impact; affiliate full professor of the University of Washington; and honorary research associate of the ACDI and FitzPatrick Institute of African Ornithology at UCT.  Previously, Phoebe was chief science and policy officer of the Conservation Biology Institute; senior consultant to the Center for Large Landscape Conservation; executive director of the Pacific Biodiversity Institute; principal / lead scientist of the South African National Biodiversity Institute's Climate Change Bioadaptation Program and founding head of its Biodiversity Futures Program. Before that, she founded and directed national biodiversity and, simultaneously, climate change programs for the Government of the Republic of Namibia.  At UCT and SANBI, she led an international and interdisciplinary global change ecology team of postdocs, PhD and MSc students as well as coworkers from the universities of Durham, Cambridge University, Cape Town, Stellenbosch, KwaZulu-Natal, Cape Peninsula Technology, and Queensland. Their work shed light on patterns of biodiversity and endemism, past, present and future in southern Africa, and on endemic bird vulnerability and adaptation to climate change in fragmented, fire-prone landscapes.
Phoebe has worked on diverse sustainability and biodiversity issues, large and small -- from ecoregional and national biodiversity and climate change strategic planning, policy and implementation, and the global status and trends of ecosystems and their ability to support human health, livelihoods and wellbeing (on the Millennium Ecosystem Assessment board), to ecological vulnerability and adaptation studies on endemic species of the fynbos biome (while based at SANBI and UCT).  Phoebe now concentrates on policy change, human behaviour change and media, including filmmaking, as a way to hasten humanity's degrowth and mindset shift, and to get as many species as possible to get through the gauntlet of the next few hundred years of dangerous climate change.
Link to climate change & development
Phoebe works at multiple levels - planetary, continental, national, ecoregional, population, and ecological community and population levels. She increasingly works on environmental futures and sustainability tipping points, including transformation of the economy and impacts on biodiversity and ecosystems, including species not of economic importance but significant in ecological function and ecosystem services to humanity.
Link to ACDI
Phoebe co-supervised PhD student Lavinia Perumal (2016-19) with Mark New and IIASA collaborators Matthias Jonas and Wei Liu. Through 2016, she led the ACDI-affiliated project on fynbos endemic birds under climate and land use change, and co-supervised ACDI MSc student Beth Mackay (2011-12). She continues coauthoring papers and opinion pieces with UCT academics.
Tel:  +1 360 914 2307 | Email: phoebe.barnard@stableplanetalliance.org 
Research Project: Climate impacts on Fynbos endemic birds
Associated Centre: The Percy FitzPatrick Institute of African Ornithology