Many residents in Cape Town's townships and informal settlements are frustrated with the limited access to water and sanitation services. To understand these experiences and gather information to present to decision-makers, ACDI researchers Gina Ziervogel and Johan Enqvist teamed up with the Western Cape Water Caucus (WCWC). The aim was to conduct a study that will help WCWC's work to improve conditions in communities, support its members to learn how to do "citizen science", and to produce qualified and relevant academic research. This work is part of the bigger urban water governance project (see further work and project details on the Urban Water Governance for Resilience page)
The project was named Community Resilience in Cape Town (CoReCT) and was possible thanks to critical support from Environmental Monitoring Group (EMG, a local NGO) as well as researchers John van Breda and Luke Metelerkamp at Stellenbosch University's Centre for Complex Systems in Transition (CST). The team relied on a powerful tool called SenseMaker, which is used to collect stories to describe people's own experiences and problems. Working together, WCWC members and the researchers designed a SenseMaker approach for the purpose of understanding water-related issues in urban low-income areas. WCWC then worked over three months in 2019 to collect 311 stories from the neighbourhoods where some of its members lived: Mitchells Plain, Du Noon, Makhaza, Joe Slovo, Green Park, Kraaifontein, as well as other areas (see map).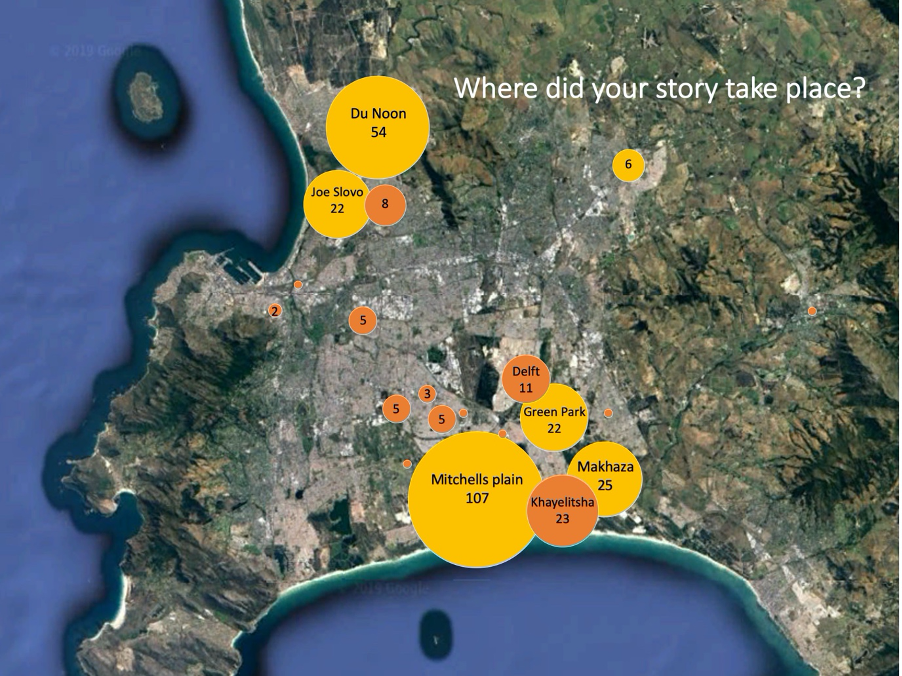 A map showing the number of stories collected at each site.
Transdisciplinary research
The CoReCT project is an example of transdisciplinary research, in which both academic scholars, community members and other stakeholders are seen as legitimate holders and producers of knowledge. Combining different perspectives builds a better understanding especially of complex problems. For this purpose, WCWC appointed 12 members who worked with ACDI researchers to decide what questions the project should try to answer, and how to best find residents with stories to share.
The WCWC members then went to their own communities as 'story collectors', interviewing people about water issued they had faced and tried to address. By using this approach and their own familiarity with the areas, the story collectors were able to have open, honest conversations about people's experiences, and to capture this in a way that could be used for scientific analysis.
Key emerging insights
The stories people shared paint a picture of great frustration in communities. Most of them describe problems that are still waiting to be resolved, and only one in seven report that they usually get help when they seek assistance to solve an issue. Those who are able to resolve a problem usually do so within the community; only 2% of stories describe successful problem-solving by the municipality. Still, the municipality is who most people would like to hear their stories.
The most common problems are incorrect water bills, malfunctioning water management devices (WMDs), and leaking pipes. That the WMDs are giving people problems is remarkable since the City introduced them as a tool to help residents manage their water use – not cause more problems. Currently, many residents feel forced to bypass the law by disconnecting the devices or hiring private plumbers, since they do not know how to find help from the City. This puts them at risk of new problems further down the line, including fines and disconnected water supply.
Implications
The CoReCT project is of great value for efforts to address Cape Town's water problems. It has helped empower WCWC as a voice representing local communities, and it has generated new information and understanding about people's everyday struggles in what is often the city's most disadvantaged areas. This knowledge has already helped guide discussions between WCWC, City representatives and other community organisations about how to best address the complex web of water-related problems. Last but not least, the project has also generated valuable academic research in the form of research papers, reinforced collaborative bonds between ACDI and CST, and generated important lessons about running transdisciplinary projects.
Project outputs
Journal paper
       Click here to view the briefing note for this article
Project reports
Project documentary: Making sense of a water crisis
This 17 minute documentary is a powerful visual journey that cover the Sensemaker research process that collected citizens' stories about their challenges with water services. The documentary gives insight into both the academics' and the activists' perspectives on why this work is important and what the project entailed. The documentary also exists in two shorter versions, one focusing on the activists' perspective (https://youtu.be/xgrO2BTnwSk) and one on the scientific importance of the project (https://youtu.be/hPFaXLsTOnE).
This video is meant to share this story with as many people as possible, and was produced for the Water Caucus and ACDI with the help of local documentary filmmaker Odendaal Esterhuyse (https://www.odendaalesterhuyse.com/).
Podcast
Gina and Johan discuss their work on urban water governance and supporting citizens voices in Pasha, The Conversation Africa's podcast.
Mapping
In collaboration with Water stories some of the SenseMaker water stories have been shared on this Cape Town water map, linking to the location in which the stories were collected (more info).
Comic - Everyday Stories of Climate Change
Material from the CoReCT project was used by Gina Ziervogel to contribute to the comic script with Gemma Sou and Adeeba Nuraina Risha and illustrated by Cat Sims. Thanks to the CoReCT team for their feedback on the script. 
This comic is free to download and aimed at high school teachers and learners for using as they see fit. We hope it provides material that helps to give insight into some of the daily challenges of living with climate impacts that complements some of the more technical learning materials that are currently available.
Read the full comic here or Download the comic here (20.5 MB)
Read more about the comic and teaching young people about climate change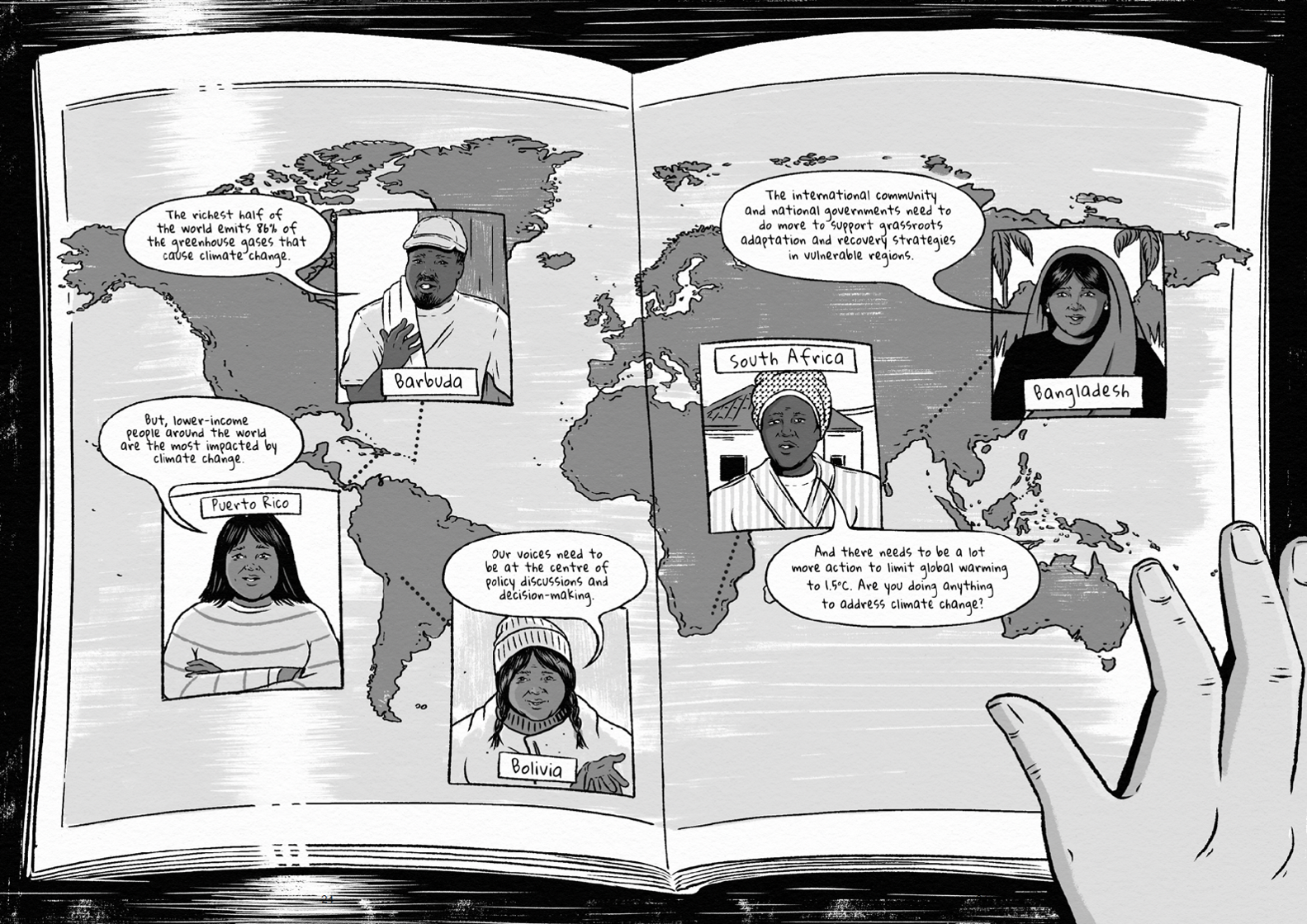 Project Team
This project was led by WCWC and ACDI, and funded by an AXA grant for research on water governance and resilience in cities. It was supported by EMG and the Centre for Complex Systems in Transition at the University of Stellenbosch. Key researchers include:
Gina Ziervogel, ACDI, Principal Investigator
Johan Enqvist, ACDI, Researcher
Jan van Breda, CST, Researcher
Luke Metelerkamp, Environmental Learning Research Centre, Rhodes University (previously CST), Researcher
Siyabonga Myeza, EMG, Facilitator
Thabo Lusithi, EMG, Facilitator
Apiwe Mdunyelwa, EMG, Facilitator
Ntombikayise Dondi, WCWC, Member
Zinzi Mgwigwi, WCWC, Member
Mpumelelo Mhlalisi, WCWC, Member
Gciniwe Nomela, WCWC, Member
Ann October, WCWC, Member
Welekazi Rangana, WCWC, Member
Maggie Yalabi, WCWC, Member
 
Gina Ziervogel

 University of Cape Town

Principal Investigator

gina@csag.uct.ac.za

Johan Enqvist

University of Cape Town

Researcher

johan.enqvist@uct.ac.za

John van Breda

Stellenbosch University

Researcher

Luke Metelerkamp

Stellenbosch University

Researcher

Siyabonga Myeza

Environmental Monitoring Group

Facilitator

Thabo Lusithi

Environmental Monitoring Group

Facilitator

 

 
*For more information please contact Gina Ziervogel or Johan Enqvist
Funder